Lynch Mob has announced a nine-stop tour that will launch later this month.
Founder/guitarist George Lynch (pictured above) decided to retire the Lynch Mob name in 2020 having recognized the negative connotations attached. But several months ago, he revived the Lynch Mob moniker.
"(Lynch Mob is) just a brand I'd established for decades, obviously — over three decades," explained Lynch in an interview. "I'm just gonna stick with it. As far as a marketing thing and a brand thing and a business thing… it keeps my band guys working and it keeps the fans happy."
Lynch Mob Tour Dates:
Jul. 14 – Blue Note Harrison – Harrison, OH
Jul. 15 – Picktown Palooza – Pickering, OH
Jul. 29 – Guitars Under The Stars – Lebanon, OR
Aug. 4 – Live At 1175 – Kansasville, WI
Aug. 5 – Smugglers – Wyandotte, MI
Aug. 6 – Founder's Square – Portage, IN
Sep. 28 – Dingbatz – Clifton, NJ
Sep. 29 – The Landis – Vineland, NJ
Sep. 30 – Tourist Inn – Hallam, PA
Current Lynch Mob Line-Up: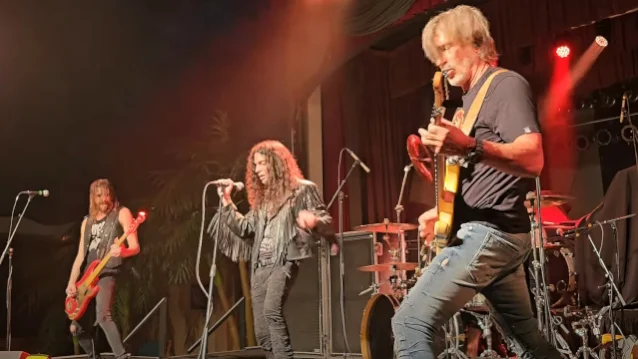 George Lynch Guitar
Gabriel Colon Vocals
Jaron Gulino Bass
Jimmy D'Anda Drums
Lynch Mob was founded in '89. The band's seventh and most recent album, "The Brotherhood" dropped in '17 but plans are in place to issue their next album, "Babylon," in the fall. Lynch has also performed with Dokken since '81.