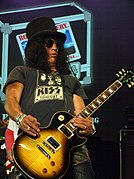 Demi Lovato (pictured above) and Slash (Guns N' Roses) have reworked Lovato's "Sorry Not Sorry" for her "Revamped" album containing Rock versions of her hit songs, out September 15th. 
Slash's solo launches at the 2:26 mark.
"Sorry Not Sorry" was originally released as the lead single from Lovato's sixth studio album, "Tell Me You Love Me."
The song became her fourth Top 10 hit and highest-charting single on the Billboard Hot 100 and has since been certified 5-times platinum.
This is not Lovato's first partnership with a major Rock guitarist. Last year, she featured guitarist Nita Strauss on her "Holy Fvck" tour.