Helmet has shared "Holiday," the first single from "Left," the band's ninth album.
Helmet's first album since '16's "Dead To The World" will arrive November 10th.   
"Left" Track Listing:
01. Holiday
02. Gun Fluf
03. NYC Tough Guy
04. Make-Up
05. Big Shot
06. Bombastic
07. Reprise
08. Dislocated
09. Tell Me Again
10. Powder Puff
11. Resolution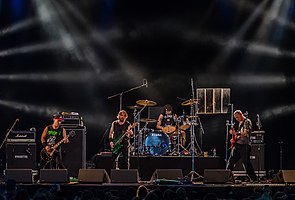 Helmet will embark on the "Look Left Tour" U.S.  in September.
Helmet:
Page Hamilton (vocals/lead guitar), Dan Beeman (guitar), Dave Case (bass) and Kyle Stevenson (drums).