Nirvana and Heart's Ann and Nancy Wilson will be honored with the Recording Academy's lifetime achievement award on February 4th.
The awards will be presented at the Special Merit Awards ceremony at the Wilshire Ebell Theatre in Los Angeles.
Heart had a fantastic career ("Crazy On You," "Magic Man," "Barracuda," "Kick It Out." "Even It Up," "Little Queen," and "Straight On") in the 1970's then made a powerful comeback in the '80s ("What About Love," "These Dreams" and "Who Will You Run To").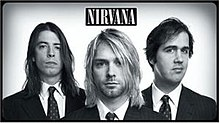 Nirvana kicked the door open for Grunge.  Not the first Grunge band they were a lightening rod for the genre with their classic "Nevermind" ("Smells Like Team Spirit" and "Come As You Are") and "In Utero" ("Heart Shaped Box" and "Dumb") studio albums. 
A live album, "From The Muddy Banks Of The Wishkah, containing "Aneurysm," and a stunning MTV Unplugged performance with a cover of David Bowie's "Man Who Sold The World" galvanized the band's stature.