The Download Festival at the Donington Racetrack/Park in England, will celebrate its 20th anniversary June 8th -11th.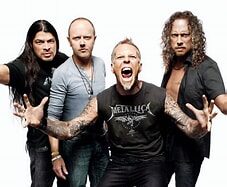 Headliners are Metallica (pictured), Bring Me The Horizon and Slipknot with support from Disturbed, Evanescence and Ghost, among others.  2023
The event started as Monsters of Rock Festival that ran from 1980 to 1996. Seven years after the event's demise it was revived as the Download Festival.
Currently, there is a 3-way tie for the most headlining slots. Iron Maiden, Linkin Park and Slipknot each have 4. Slipknot's performance this year will break the tie.  Slipknot was the headliner in '13, '15, '19 and '21.
Festival Tickets & Information