For those who missed the limited screenings of "Dio: Dreamers Never Die" in late September and early October, the career-spanning documentary on the life and times of the late Ronnie James Dio, will have its television premiere on Showtime, December 1st.
It will also be available to stream via the Showtime app.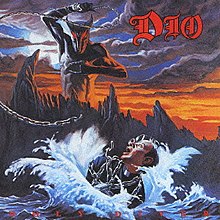 "Dio: Dreamers Never Die" delves into the vocalist's work with Elf, then Rainbow (with Deep Purple vet, guitarist Ritchie Blackmore) to replacing Ozzy Osbourne in Black Sabbath, before fronting his own band, Dio ("Holy Diver" – pictured above).
Dio passed away from stomach cancer in 2010. Annual fundraisers are held in his name to help those with cancer.