Delain will embark on a U.S. tour in September. Support on the trek will come from Visions Of Atlantis.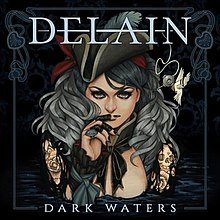 Delain released its latest album "Dark Waters" on February 10th.  The album featured the singles "Moth To Flame" and "The Quest And The Curse."
The band's seventh studio album was the first to feature vocalist Diana Leah and bassist Ludovico Cioffi. The album also markd the return of original guitarist Ronald Landa and drummer Sander Zoer.
Tour Dates:
Sep. 09 – ProgPower USA – Atlanta, GA
Sep. 10 – The Underground – Charlotte, NC
Sep. 12 – The Foundry – Philadelphia, PA
Sep. 13 – Gramercy Theater – New York, NY
Sep. 14 – Palladium (Upstairs) – Worcester, MA
Sep. 15 – Foufounes – Montreal, QC
Sep. 16 – Velvet Underground – Toronto, ON
Sep. 18 – Bottom Lounge – Chicago, IL
Sep. 20 – Bluebird – Denver, CO
Sep. 21 – Metro – Salt Lake City, UT
Sep. 23 – Nile Theater – Mesa, AZ
Sep. 24 – 1720 – Los Angeles, CA