If you had long hair in the late-60s the chances were pretty good you were a target. One Leonard Skinner, a gym teacher, was notorious for putting Jacksonville, FL, longhaired high school boys through the ringer.
To Skinner, long hair meant you were a dirty hippie, in cahoots with the commies, who took their orders directly from Moscow – or was it Peking (now known as Beijing)?
It would take hard work and discipline to bring those weak-minded kids back to truth, justice and the American way. Skinner met the challenge head-on. By doing so, he achieved a lasting, if peculiar, brand of fame. A modified version of his name was the moniker of one of the South's great bands, Lynyrd Skynyrd.

Prolonged regional touring led to a couple of singles that didn't do much. But they did attract producer Al Kooper's attention. Vocalist Ronnie Van Zant, bassist Leon Wilkeson, keyboardist Billy Powell, drummer Bob Burns and guitarists Gary Rossington, Allen Collins and Ed King headed for the studio. They emerged in the summer of '73 with "Pronounced LEH'-NERD SKIN-NERD." "Gimme Three Steps" was a potent Country-flavored song.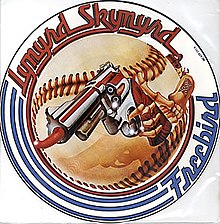 But it was another track, "Free Bird," dedicated to the recently departed guitar great Duane Allman, becoming a concert, radio and fan favorite, becoming Skynyrd's signature song.

"Second Helping" came out the following year and contained "Sweet Home Alabama," an answer to Neil Young's redneck bashing "Southern Man" ("Neil Young should remember, Southern man don't need him around any how").
In addition, there were the boogie tunes "Don't Ask Me No Questions" and "Call Me The Breeze," along with the humorous "Workin' For MCA," the band's record label. But there were some slip ups along the way. After extensive touring, Burns left and was replaced by Artimus Pyle.
Also, Van Zant seemed to find bar fights with increasing regularity and consistently added to an already lengthy arrest record. His activities were later alluded to in "What's Your Name."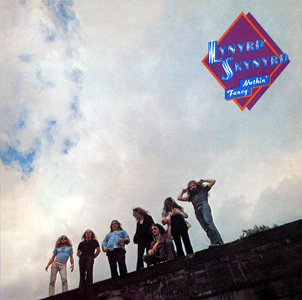 "Nuthin' Fancy" featured "Saturday Night Special." At this juncture King, who'd once been a member of the psychedelic Strawberry Alarm Clock, called it quits due to drug and alcohol problems. Steve Gaines stepped in and the band also added three female back-up singers for touring. One of the singers was Gaines' sister Cassie.
"Gimme Back My Bullets," with the excellent title track, was followed by one of the all-time best live albums "One More From The Road." The highlight was "Free Bird," which clocked in at over fifteen minutes, without a wasted note or self-indulgent moment. The song built toward a climatic screaming guitar battle.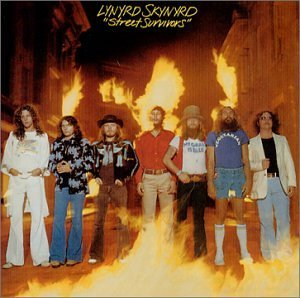 "Street Survivors" had "What's Your Name" and the brilliant "That Smell," a song that turned out to be prophetic. A line in the song talks about "having the smell of death around you."
While on tour, the band chartered a plane to take them to a show in Baton Rouge. But the plane ran out of fuel ("E" means empty) and crashed. Van Zant, Steve and Cassie Gaines and the band's road manager were killed. Other members were seriously injured.
The "Street Survivors" cover had the band walking through flames (see above). In light of events the record company pulled the album and changed the cover.

Plane crash survivors Gary Rossington and Allen Collins started the Rossington-Collins Band. Later, Lynyrd Skynyrd re-formed to record and hit the oldies circuit with former Outlaws' guitarist Hughie Thomasson and Ronnie's kid brother, Johnny, handling vocals. But none of this touched Lynyrd Skynyrd's late '70s prime.