Candlebox will deliver its final studio album, "The Long Goodbye," on Friday, August 25th.
The lead single is "Punks."
"The statement is that music has always been there and nobody's really doing anything differently," states frontman Kevin Martin.
"The Long Goodbye" Track Listing:
01. Punks
02. What Do You Need ft. Mona
03. Elegante
04. I Should Be Happy
05. Nails On A Chalkboard
06. Ugly
07. Maze
08. Cellphone Jesus
09. Foxy
10. Hourglass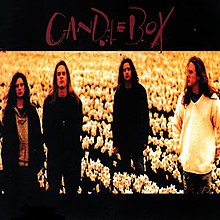 To date, Candlebox has released seven albums.  Their self-titled debut (pictured) dropped in '93 and went multi=platinum.  Sophomore set "Lucy" went gold (500,000 units).  Following the release of "Happy Pills" the band went on a ten-year hiatus before reforming in '08.
Candlebox:  
Kevin Martin – Lead Vocals
Brian Quinn -Guitar
Island Styles -Guitar
Adam Kury -Bass
BJ Kerwin -Drums