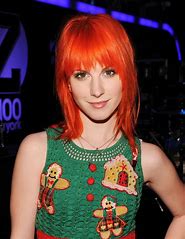 Blink-182 and Paramore (frontwoman Haley Williams pictured left) are slated to headline the inaugural Adjacent Music Festival over the Memorial Day weekend (May 27th – 28th) in Atlantic City Beach in Atlantic City, N.J.
In addition to the headliners the two-day event will feature over 40 bands playing on three stages.
The line-up includes Coheed and Cambria, Jimmy Eat World, Thursday, L.S. Dunes and Phantom Planet.